Activities to do in Goa
The state of Goa is located in southwestern part of India in a region known as Konkan, it's the smallest state of India known for its Pristine beaches and nightlife, which makes it highly popular not only to domestic travelers but Tourist all over the World, so we have put together the list of activities you can do in Goa so that you can plan and enjoy your stay in Goa with Activities to do in Goa.
Soak up the Sun
Goa best attraction is its picturesque beaches, based on what type of activity you are interested you have a lot of options to choose from, beaches in north Goa are full of activities like adventure sports, beach parties and nightlife whereas if you need just to relax then beaches in south Goa is a better option for you.
Anjana, Calungate and Baga are some of the popular beaches in North Goa, Colva and Palolem are the top attractions in South Goa. Miramar Beach offers Cycling tours, so you can take a break from your usual Leisure activities and explore the colonial Goa like never before.
Tour to Grand Island
Grand Island Tour is a perfect getaway, located some miles away from shoreline, the island is famous for its scenic beauty and Dolphins, you can also enjoy amazing activities like scuba diving, parasailing and banana ride, there are multiple tours conducted from Calangute, Baga  and Candolim beach, you can choose one based on your preference.
Aquatic Sports
Goa lovely beaches here are ideally suited for several water sporting activities such as windsurfing, dinghy sailing, scuba diving, water scooter, and swimming. Windsurfing is one of the most popular water sports activities in Goa, for those who are looking to explore underwater Scuba diving is the activity for you,  Goa has lot of marine life to explore, and you might find some old Portuguese treasure in your Quest, Other water sports activities that can be enjoyed are waterskiing, angling, and parasailing.
If you are looking for Surfing, then Ashvem Beach is the most popular destination.
Spice Falls
Goa has many spice plantations around the city, most popular are Savoi and Sahakar Farms, from where you can pluck and bite the hottest chilies in the world Peri-Peri, the way it works best is to take a trip to Dudhsagar waterfall and then spend some time at Spice plantation where you are welcome by splash of water by Tuskers followed by amazing Lunch buffet, you can also plant your spices.
Dudhsagar falls itself is a must-visit destination located on Mandovi River, it's one of the tallest waterfalls in India and surrounded by Mollem national park, the way to be there is to take a jeep ride, passing through thick forests the trek is an experience in itself.
Mandovi River Cruise
When you have enough sunshine on the beach, there is an excellent way to see a sunset and enjoy a romantic candlelight dinner in Cruise on the river Mandovi, after all after wild late-night parties and exhilarating thrill of water sports, a laidback river cruise is all we need.
There are lots of customized options to avail with different timings; you can opt for sunrise with breakfast or sunset with Dinner.
Anjuna Flea Market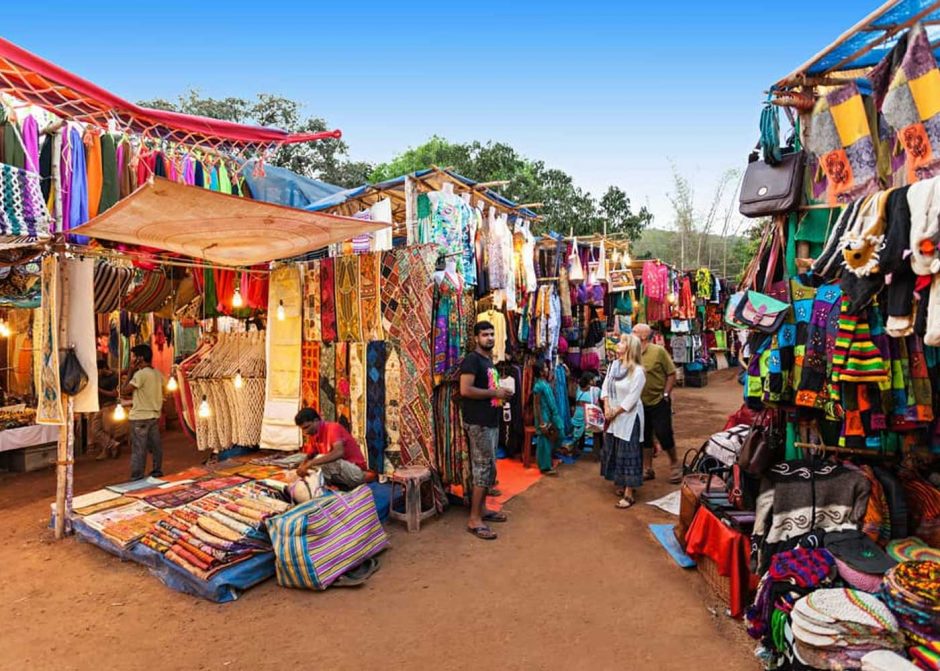 Anjuna is one of the most popular beaches in Goa, and the flea market there attract Tourists and locals alike,  The market offers a wide range of items such as jewelry, clothes, second-hand bikes, mobile phones, cameras, and other stuff. Delicious Goan dishes are available to be enjoyed at this place, and you can get a tattoo at one of the tattoo parlors on the beach. This market is a must-visit place for shopaholics.
Gamblers Paradise
If you are wondering Goa is all about beaches, sunshine and water sports then you are mistaken, Goa is one of the few states in India where Gamling is legal.
The Casino Royale is Goa's most popular casino, spread over an area of 12,000 square feet. It's situated on a huge boat anchored on the Mandovi River. it's open 24/7 all the year-round. The casinos open by 8 in the evening and go on till late in the night, while winners take it all, but for those who are not so lucky, there is a variety of mouth-watering cuisine and live music for you to enjoy and make your trip memorable.
Spiritual retreat
Goa has many marvelous places of worship, prominent among them are Mangueshi Temple and The Basilica of Bom Jesus, you can visit these places to catch a glimpse of Goa historical and cultural heritage.
Built-in the year 1594, Basilica of Bom Jesus holds the remains of St. Francis Xavier, Even after 400 years, the remains are in good condition and taken out once every decade.  A site with rich cultural and religious significance, the Basilica of Bom Jesus has been declared a World Heritage Site by UNESCO.
Goa is well connected to all parts of India by Rail, Road and Air, the best time to visit Goa is from November till February when the weather is cool and comfortable, goa tour and travel packages helps you in making your trip memorable and assist you through your entire journey.